Well I can't believe it but this here blog is one year old today! A year!! I never thought anyone would read it but I get such sweet comments from other amazing bloggers on my posts and it really makes my day when I read them.
So thank you thank you thank you to anyone who reads this blog, whether you regularly leave comments or just lurk. Thank you!
So it's been a year and I still didn't have a blogroll. Bad baby bad baby! So I put one on today – it's basically a list of the blogs I follow. If I've left you off or you have a blog that I'm missing, let me know and I'll add you.
I also had to enable comment moderation because some fuckwad decided to spam like 40 of my posts with crap! He got about 10 published before I managed to get the moderation going and start rejecting them!
Anyway in usual Alien style, I celebrated with …….. CUPCAKES!
Basic golden vanilla cupcakes from
VCTOtW
with buttercream that I coloured with a buttload of (Alien) green food colouring but just to fool everyone flavoured with orange oil. It's weird eating an orange flavoured green cupcake! I made some daft toppers cuz I was bored at work.
Look – it's an Alien…. On Toast! Woo yeah I rule! Hahaha that is about the extent of my computer skillz – powerpoint & clipart!!! Hahaha.
Hottest alien ever....?
Remember ALF - I loved him!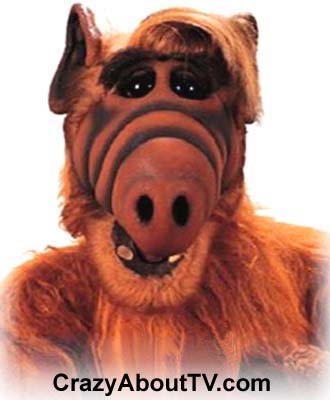 And just to tease you.... INK!! But It's literally an hour and a half old so still all inky and gross! Pic next time!!
Das all for now!