OK I couldn't think of anything that rhymed with chilli except willy - and that's just childish!
It was bank holiday weekend again – I love May! Saturday night we had a meal out in a Chinese restaurant for Mum's birthday. Everyone had a set menu and they did a veggie option for me, which I gotta say for such an expensive restaurant, really wasn't that imaginative. The starter platter was awesome, but the rest all they basically did was replace the meat with shredded up veggies! That goes for the starter of shredded up veggies with some spicy sauce on and the duck course they gave me shredded up veggies to go in the pancake rolls. My local Chinese restaurant is a lot more inventive!
Even the main course was nothing to write home about; a rather flavourless aubergine dish, some rather flavourless looking beansprout dish (I didn't bother with this) and some rice, which they brought with egg in it and I had to send back). The green bean dish was awesome though, as was the pink champagne!
Anyway yesterday (Monday) I was in the mood for Chinese food, again, for some reason. So I thought it was about time I used up the rice papers and can of mock duck sitting in my cupboard.
I used the Granose brand, which you can get in Holland & Barrett. Straight out of the can, this stuff is fucking terrible! But drain it off and bake it at 180°C for 20 minutes (or until crispy) and it's a lot better! The pancakes are the Blue Dragon brand and they are not like the ones you get in Chinese restaurants, they are solid until you soak them in water, then they go sticky and a bit weird, but once they're rolled up with the mock duck, cucumber and hoisin sauce they are pretty good!
To go with it I made satay tofu (recipe below) and some brown rice. Technically the tofu should have been skewered, but I didn't have any skewers so I just lined it up in a row.
Here's the pancakes, ready to roll!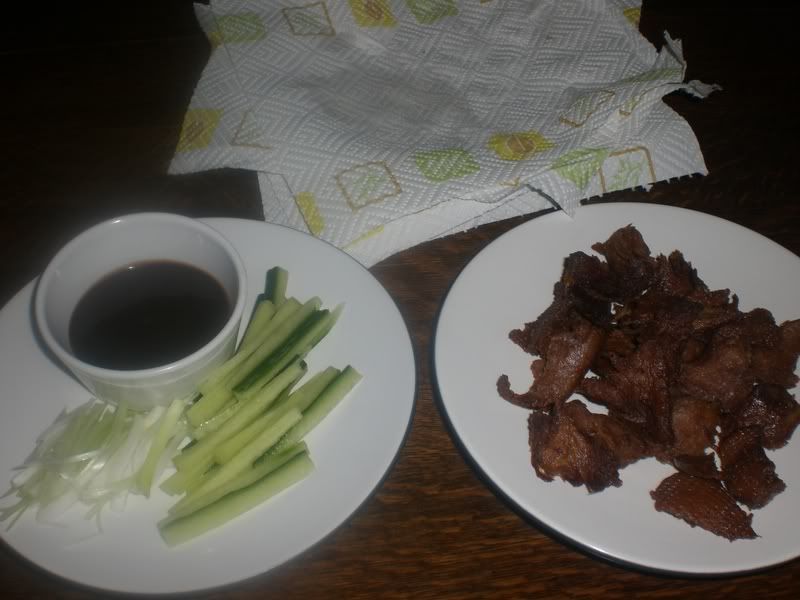 Satay tofu! Mmmmm!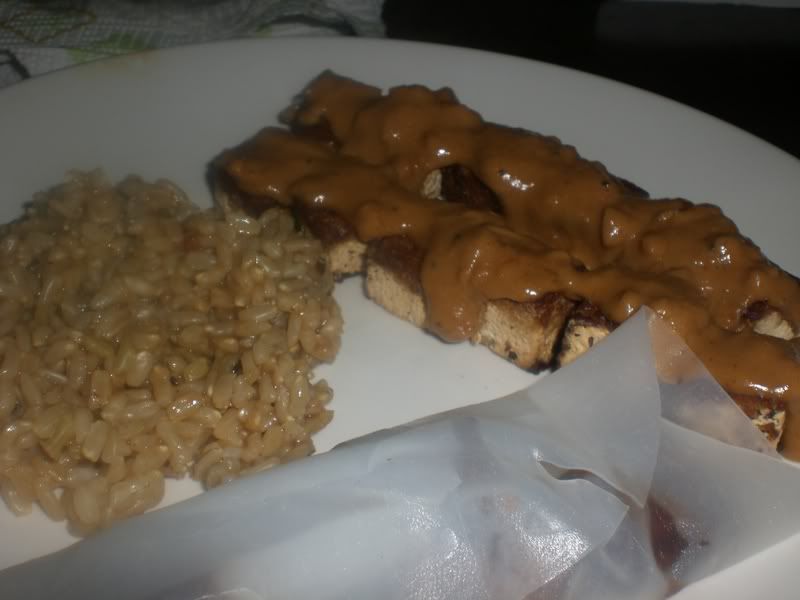 Ingredients for the Tofu:

1 block of firm Tofu, drained & pressed (I use Caldron Original)
1 tbsp soy sauce
60ml / ¼ cup water
2 tbsp cornflour (seasoned lightly with salt & pepper)
Ingredients for the satay sauce:

6 tbsp ish (about 1/3 cup) chunky peanut butter
1 tsp Chinese 5 spice powder
Juice of half a lemon
2 tbsp soy sauce
¼ - ½ tsp chilli sauce (optional, use enough to make it as spicy as you want)
120ml / ½ cup water
Method:
I prefer to use tofu that has been frozen and defrosted before pressing, as it gives a firmer texture. Press the tofu for a good hour between 2 boards and a few sheets of kitchen paper, weighted down with a couple of cans or jars. Half way through, flip it and replace the paper.
Cut the tofu into bite sized cubes and put into a bowl. Mix together the soy sauce and the water and pour over the tofu. Leave to marinate for 10 minutes or so.
Remove from the marinade and pat dry. Put the cornflour into a food bag and toss in the tofu. Shake it all about to get it coated. Spray a roasting dish with some light oil (I use sunflower), then bake at 180°C/350°F (that's about Gas 4) for around 20 minutes, turning once.
For the sauce, put everything except the water into a small saucepan and stir over a low heat. Slowly add the water, mixing as you go to incorporate it. Heat through until warm and check seasoning before serving. I found this didn't need any extra seasoning – the soy sauce and chilli sauce did the job fine!
To serve, pour the sauce over the tofu (I served the rest in a small dish on the side for dipping).
Cooking to: Weezer - Pinkerton

Sunday:
I love having a whole day to take my time and cook something awesome. On Sunday, I really fancied chilli and cornbread, so that is what I made. I made it up as I went along but in
VWAV
, there is a chilli recipe which includes cocoa powder. Sounds nuts but tastes amazing. I added some molasses too. The cornbread is my favourite cornbread recipe I've tried so far (from
La Dolce Vegan
). I halved the sugar content in it though, as I think it tastes wrong with savoury food if it's too sweet.
These are the bowls my mum gave me a few years ago. There is a big serving bowl that goes with them too, I love them!!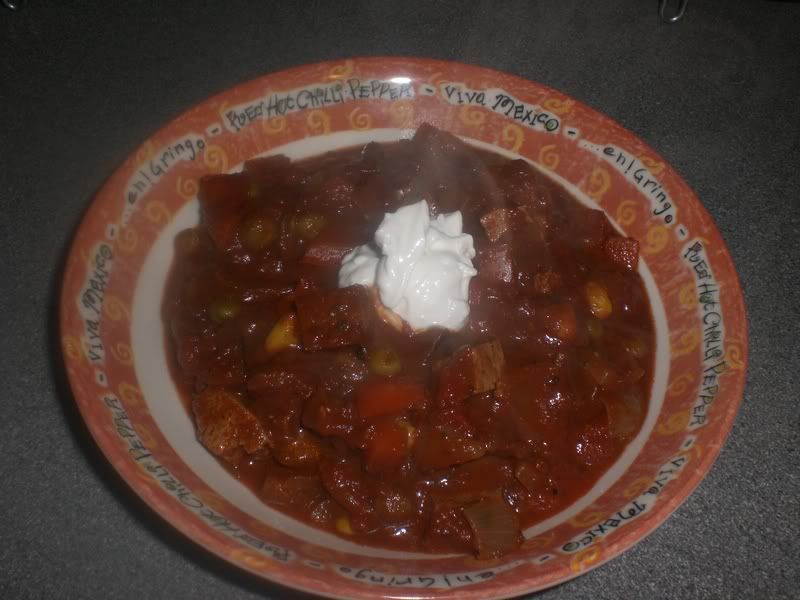 The cornbread: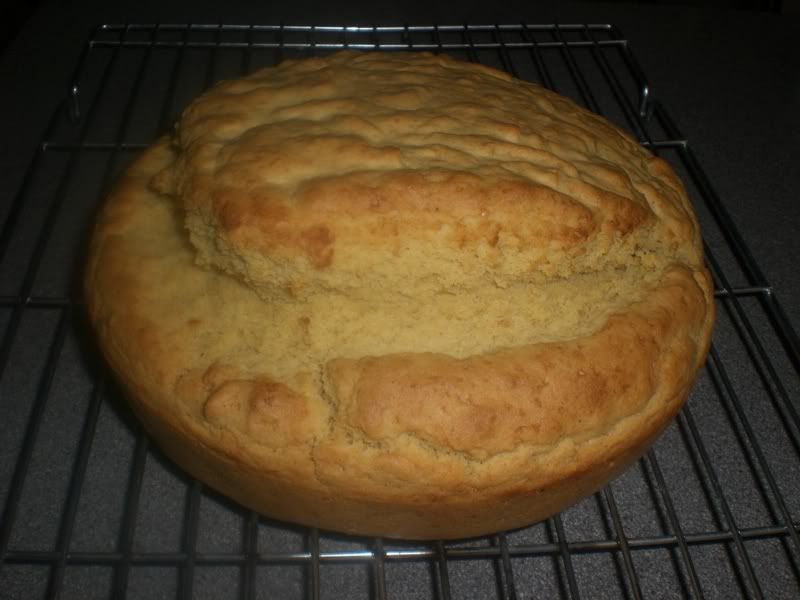 Cooking to: Def Leppard – Songs from the Sparkle Lounge

Cupcake post to follow....