It's been a long weekend – and not just because of the bank holiday!!
Two Matchbox 20 concerts, a trip to London, greek food, Chinese food, shopping, a Brothers & Sisters marathon and a few cocktails! Haven't done much cooking, aside from a couple of tofu scrambles, which I have now got my (omni) friend Vicki hooked on. I also got her hooked on Supernatural, but that's a whole 'nother story!
Today I had dinner at the parents' house and normally I cook but today my mum did it all and made an awesome tomato puff pastry tart which I stole the recipe from her for – I do wish I'd taken my camera because they were pretty as well as tasty.
Also, I had left a book there and she made the coconut cake which she filled with strawberry jam and buttercream. If you have
THIS BOOK
– I really recommend you make this cake. It is freaking DELICIOUS!! Back on the wagon tomorrow!
But I did have Saturday night to cook and I went for enchiladas. I used to make enchiladas all the time before I went veg*n and loved them. They are so easy to make but have a few stages so can be time-consuming.
Originally, this recipe was from the GI diet book but I have modified it to take out the animal fat and cholesterol and here is my veganised version:
Ingredients:
2 tsp cumin
1 tsp chilli powder
1 tsp paprika
1 tsp dried oregano
½ tsp salt
¼ tsp pepper
2-3 tbsp olive oil, plus more for sautéing
½ block Cauldron firm tofu, drained & pressed
½ red pepper
½ yellow pepper (or use one of either instead of half of each)
1 small/medium onion
2 or 3 rings of jalapeno chilli (from a jar of nacho chillis)
Small tin (or half a regular tin) chopped tomatoes – juice drained off
Small tin (or half a regular tin) kidney (or other) beans
4 flour or corn tortillas
Method:
Cut the tofu into small cubes. Mix together the cumin, chilli, paprika, oregano and salt & pepper in a small bowl. Add oil a tablespoon at a time until you have a loose paste.
Add the tofu and stir well. Put aside for as long as you can but at least half an hour.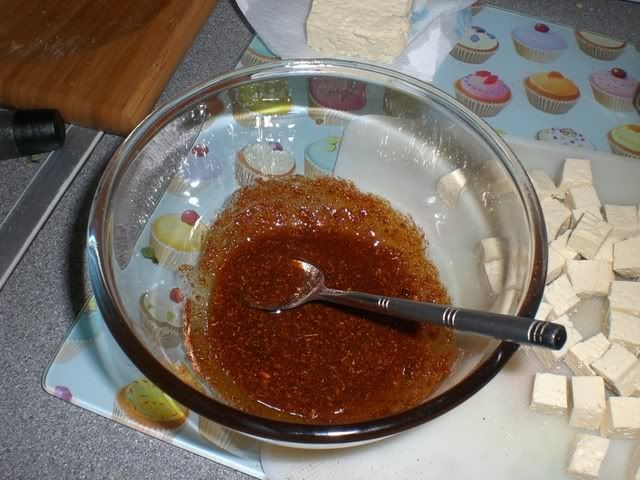 Preheat the oven to 190°C.
Slice the onion and peppers into strips.

Heat a frying pan or wok and tip in the tofu and fry for a few minutes. Remove the tofu from the pan and put aside.

Add some oil to the pan and add the onions and peppers. Saute until softened (about 5 minutes). Add back the tofu plus the tomatoes, beans and chilli. Taste and adjust seasoning if required.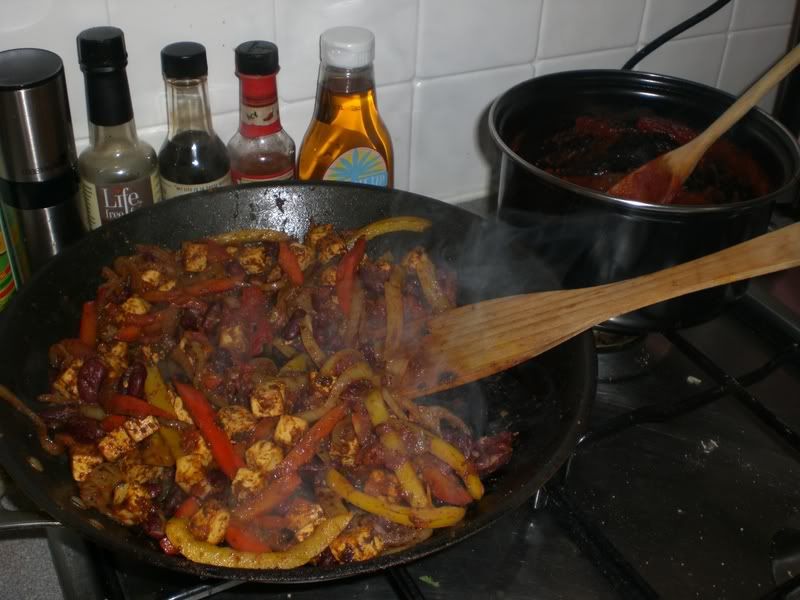 Split the mixture between the tortillas. Smoosh it into an oblongy shape and roll the two sides of the tortilla in.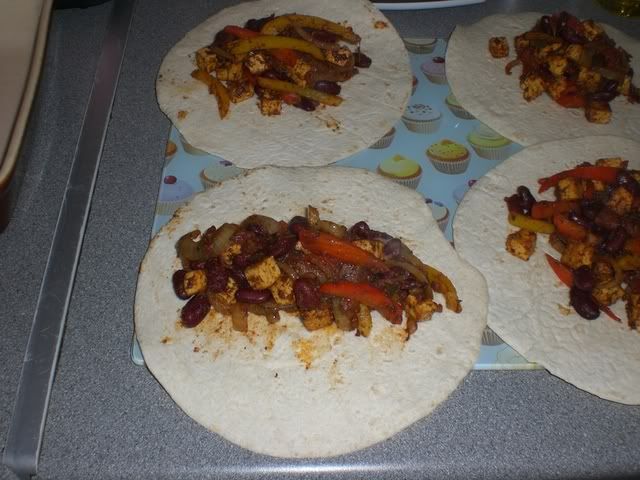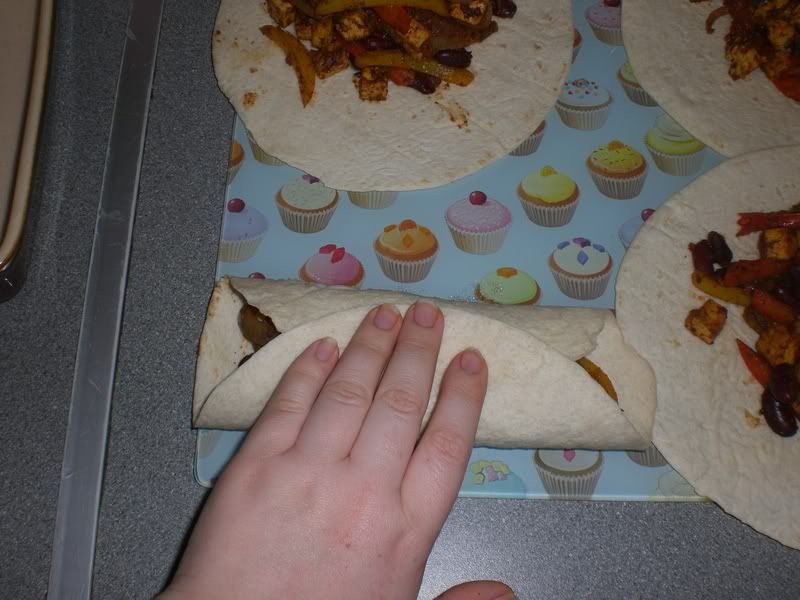 Place, join-side down, in a lightly greased dish.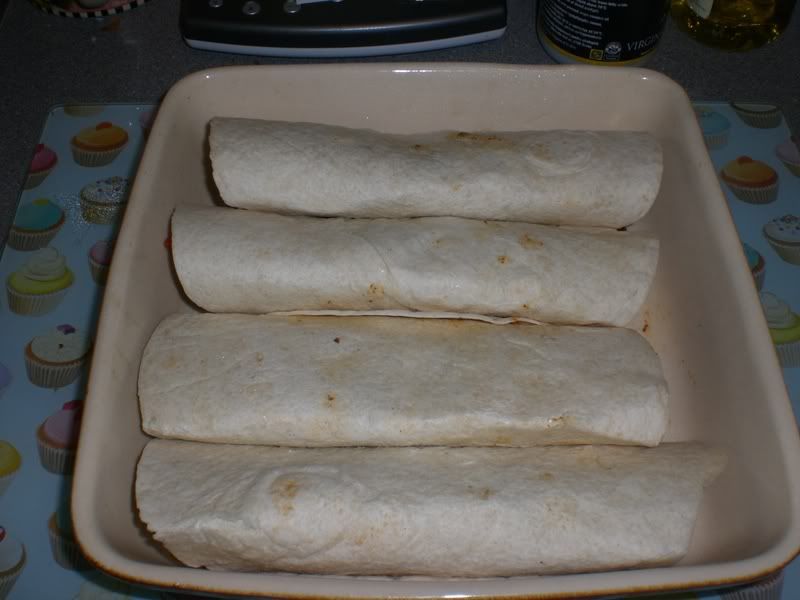 Cover with foil and bake for 35 minutes. After this time, remove the foil and bake for a further 5 minutes. This gets the tortillas all crispy, which I think is the best part.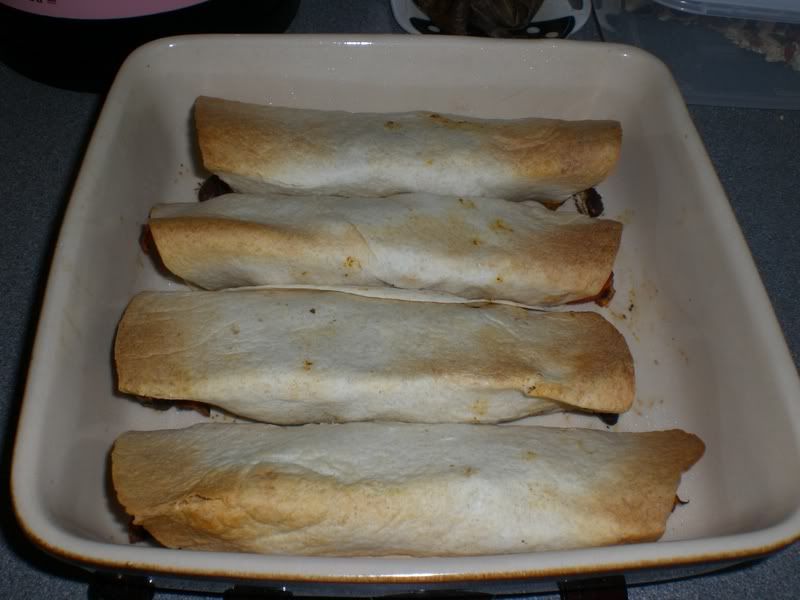 You can dollop some vegan sour cream and soy cheese on top if you want but I served them with homemade guacamole and salsa.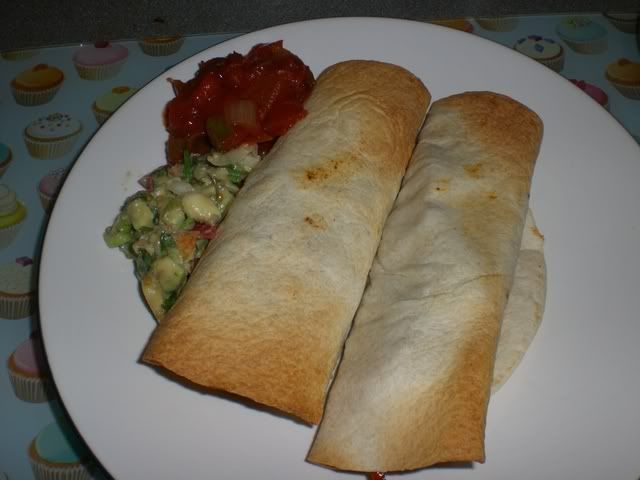 The rest of the tortillas I just cut up and baked alongside the enchiladas for about 4 mins on each side - et voila, homemade tortilla chips. Great with the salsa & guac that was leftover.
Cooking to: Matchbox 20 - All their albums on random.