Another day and yet another burn! That's 2 more burns since my last post (1 a day! ) Oh and a bruise too. Seriously, I dunno what the cock is wrong with me lately - I'm gonna have to start wearing clothes with sleeves and oven mitts or something stupid like that if this carries on! Sheesh.
It's not all doom and gloom though, I baked yesterday. Two experiments with flax eggs (see; the stupid title makes sense now): biccies and cakes.
First off, fairy cakes; I used to love making these when I was little and I just felt like creaming together butter and sugar, adding 'eggs' and making really childish cakes. So I experimented and this is what I got: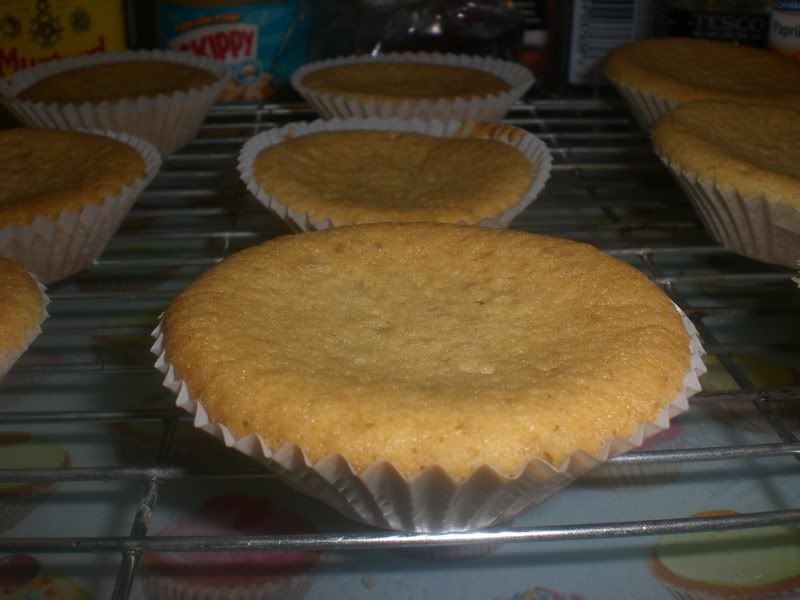 Erm, they sunk! So I am gonna have to work on the recipe before I can give it out as it's not right yet. Maybe it's because I ran out of baking powder and didn't have quite enough! Hmmm. So instead of the butterfly cakes I had in mind, I decided to start a theme – IT'S PEANUT BUTTER JELLY TIME PEANUT BUTTER JELLY TIME..... ooh that dancing banana, I'm gonna hunt that little bitch down.
Anyhoo. I poked a hole in each cake, filled it with jam and then topped them with peanut butter frosting. They rock.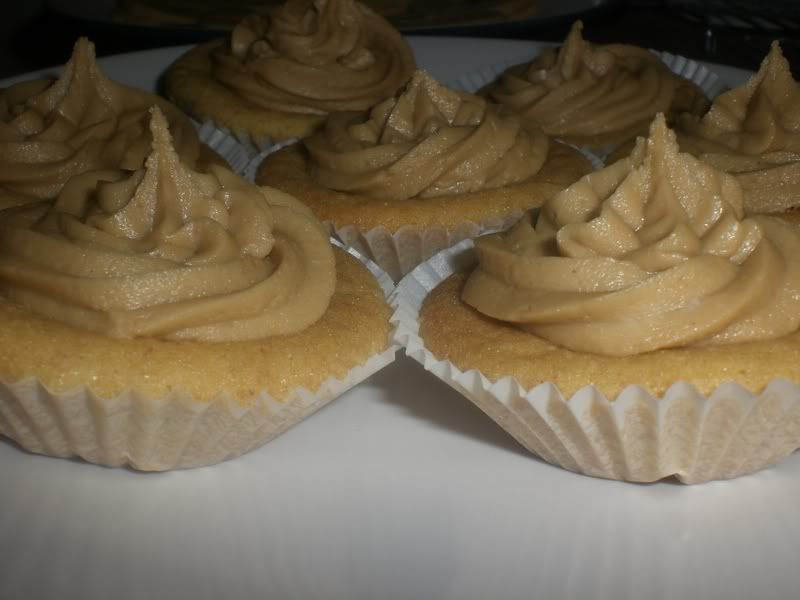 Money shot....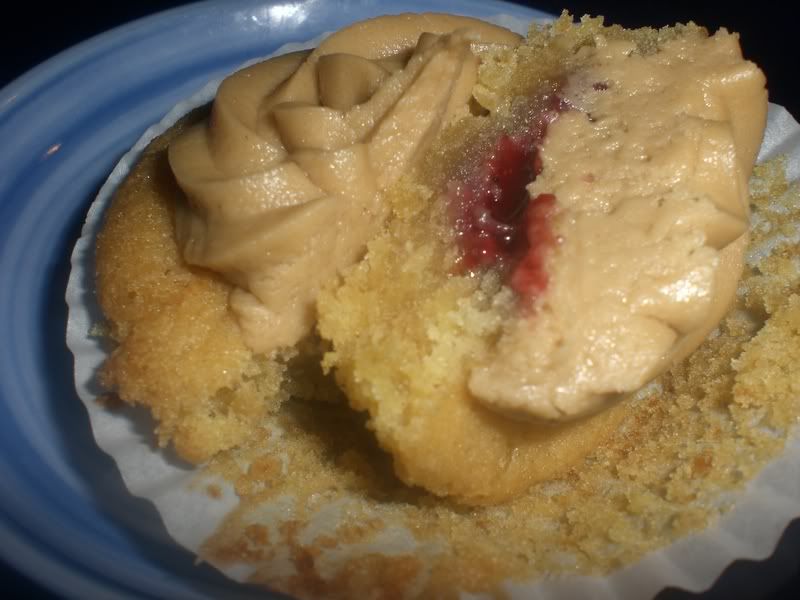 Secondly, I fancied jammie dodgers, but surprise surprise - they are not vegan. Well suck it mcvities (or whoever makes jammie dodgers), I shall make my own.

Ok so they're not perfect (YET) and the second batch was overcooked, even though they were cooked the same temp / time! Weird. These are my peanut butter jammie dodgers, recipe pending tweakage.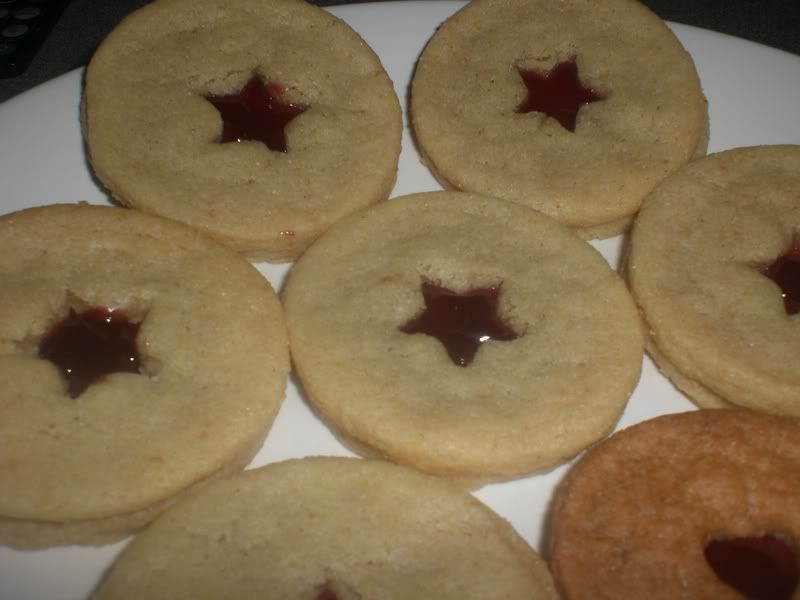 Oh and yesterday morning's brekkie. I wouldn't normally bother posting a pic of a common old tofu scramble, but it was so pretty and colourful! I added fresh tomatoes and basil right before serving and roasted up some sweet potato to go with it – and it was good (it made me forget about the burn on my hand from digging out the bits of potato that fell through the oven door, for about 5 minutes anyway).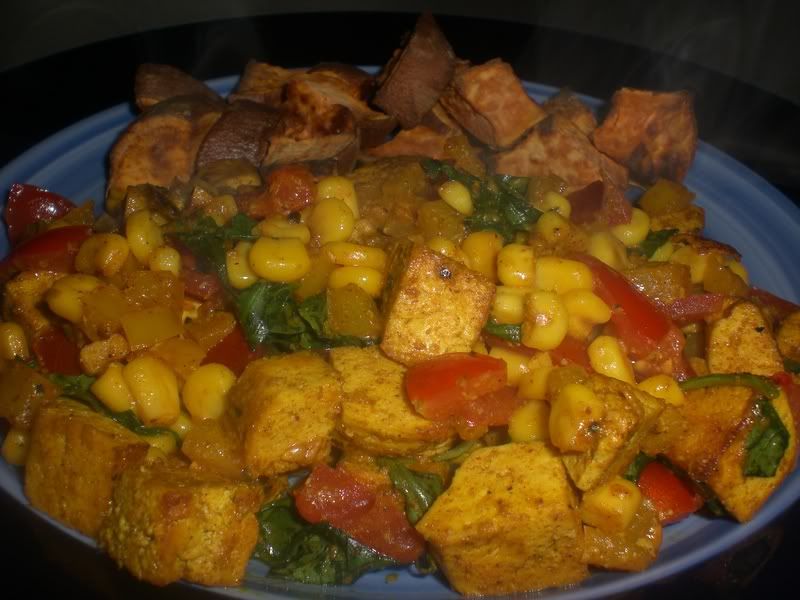 Yesterday was also the day I realised that I have 5 jars of peanut butter in my cupboard! FIVE! How messy is my cupboard! No wonder the bugger doesn't shut properly.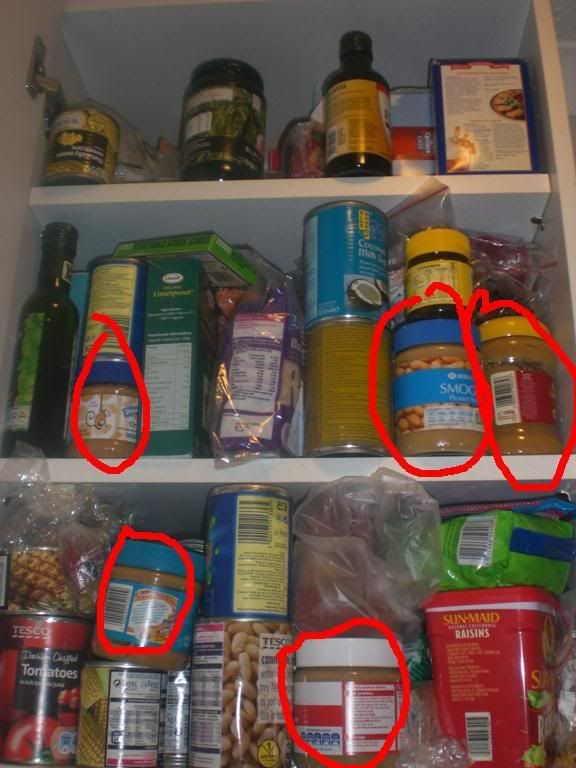 Cooking to: Def Leppard – Slang, Ash – Meltdown & Snow Patrol – Final Straw


Onto today and I felt like making some Singapore noodles. I only had tandoori curry powder so they weren't quite right. Plus once the vermicelli pasta was cooked it looked more like spaghetti, but that's cuz it really should be rice noodles not regular pasta! They were good though and I was so happy with the tofu, it was perfect in texture and colour and taste! I'm going to try this again with my own spice blend and rice noodles and then I'll post the recipe.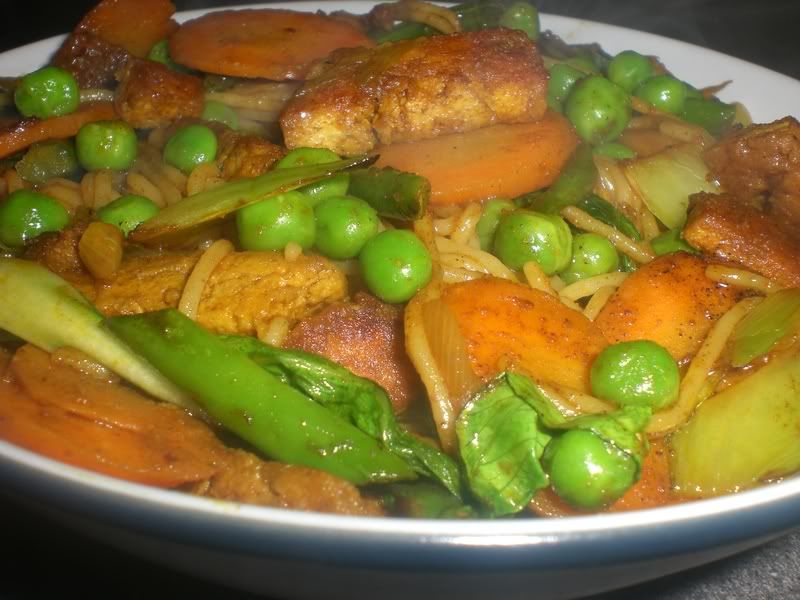 Cooking to: A random iTunes playlist but this dinner was so quick, it only took about 4 songs!