So here it is, my first entry into the Iron Cupcake challenge. I've seen this on a few blogs and it looked like so much fun I had to take part! (Details of
Iron Cupcake
can be found here.)
This month's ingredient was basil. I spent ages trying to come up with ingredients that would compliment basil and not make my cupcake taste like a salad gone wrong. What I came up with was lime & ginger.
The smell of these is gorgeous but also weird because cake just shouldn't smell of basil!! But they are surprisingly delicious and I would make them again!
I had grand ideas of a topping made from almonds but it just didn't work the way I wanted it to, so I went with a buttercream flavoured with fresh lime, fresh grated ginger and a basil leaf dipped in chocolate and a big glob of green food colouring for good measure. I'm really happy with the way they came out!
Here is my submission: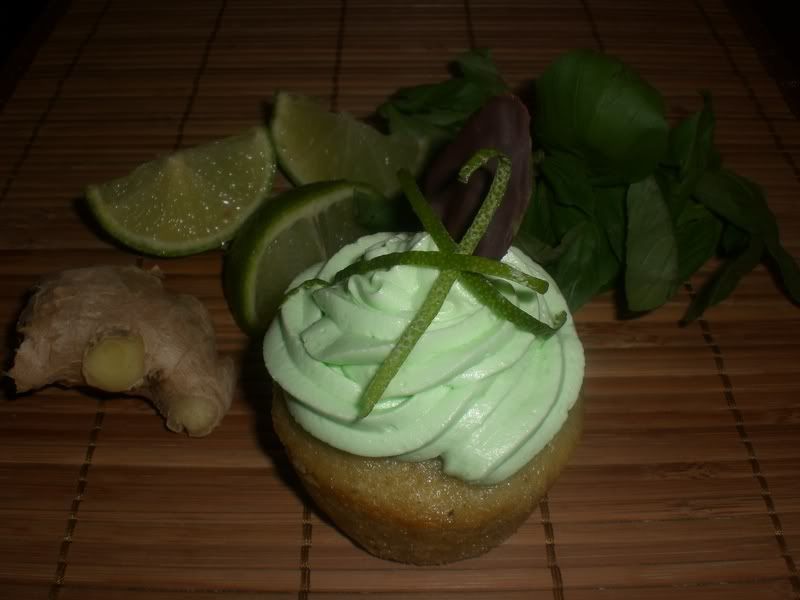 Sal's Basil, Lime & Ginger Cupcakes

Dry Ingredients:

2 cups plain flour
1 cup caster sugar
Zest of 2 limes
1 tsp baking powder
½ tsp baking soda
¼ cup crystallised ginger, chopped
½ tsp salt
¼ tsp dried ground ginger
Wet Ingredients:
Juice of 2 limes
¾ cup non dairy milk
⅓ cup sunflower (or other light) oil
2 tbsp ginger jam
½ cup basil (not packed just lightly placed)
1 tsp vanilla extract
Frosting:
¼ cup vegan margarine
¼ cup vegetable shortening
3 – 3½ cups icing sugar (depending on the desired consistency
Fresh lime juice (up to 1 whole lime)
2 tsp fresh grated ginger
Green food colouring (optional)
Optional Decorations:
Slivers of lime zest
Basil leaves dipped in melted, dark chocolate
Method:
Preheat oven to 180C/350F.
Mix together all the wet ingredients, including the basil and blend with a hand blender until smooth as you can get it.
Mix together the dry ingredients, then pour the wet ingredients in and mix until just combined, don't overmix.
Pour into muffin tins and bake for around 25-30 minutes, until a cocktail stick comes out clean. Cool in the tins for at least 5 minutes, then turn out onto a wire rack until completely cold.
To make the frosting, cream together the margarine, shortening and icing sugar with a fork. Add the lime juice a tbsp at a time, until desired consistency is reached. Add the ginger and food colouring bit by bit and beat with an electric hand beater till the icing is fluffy and smooth. Pipe or spread onto the cupcakes and add a chocolate basil leaf if required.
Here's a bonus pic as well.... I split the batter between a muffin tin and a sheet pan and cut a couple out with a square scone cutter, to make a couple of square cakes. I sandwiched these together with buttercream and then decorated the top with stars of buttercream and a chocolate basil leaf.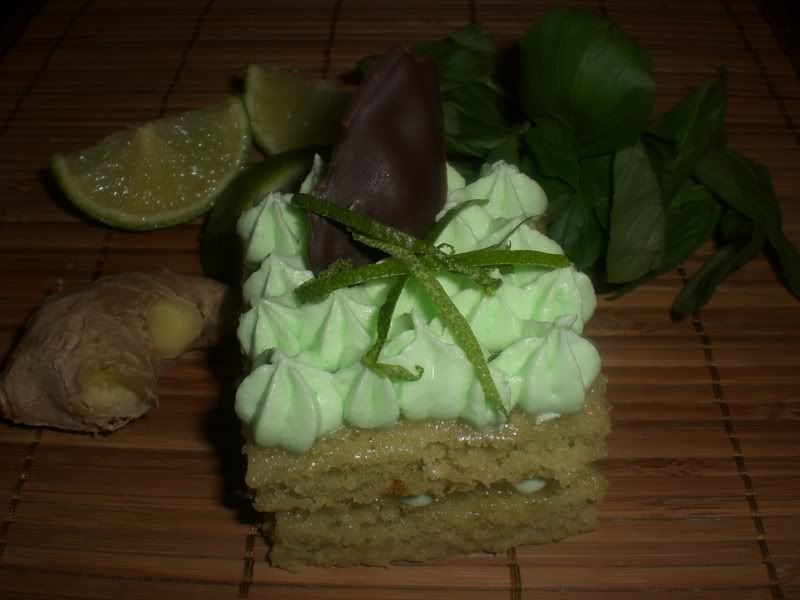 Cooking to: Chemical Brothers - Brotherhood

That's probably it from me until I get back from holiday, so hopefully I'll be posting pics of delicious foodz from Cyprus in just over a week.

xxx