I have an awesomely chocolately recipe for you today - my take on brownies. They weren't exactly what I was going for but they are still fabulous!
These brownies are super squidgy and soft (even if you keep them in the fridge, there's no chopping one off and picking it up - they squidgy!), they're not too sweet but they are chocolately and delicious and with a bit of tang from the berries.
Here they are straight out the oven....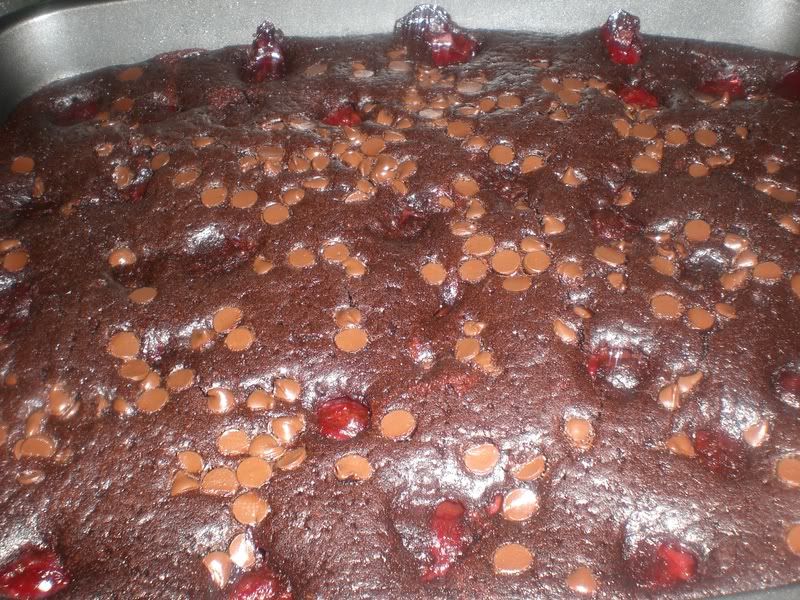 Sal's Squidgy Booze-berry Brownies

Ingredients:
2 flaxeggs (2 tbsp ground flax seeds whisked together with 6 tbsp water)
3 tbsp Cointreau (divided)
1 small punnet of raspberries (170g)
⅓ cup / 50g vegan chocolate chips
Dry Ingredients:
1 cup / 130g plain flour
¾ cup / 150g demerera sugar
½ cup / 50g cocoa powder, sieved
1 tsp baking powder
½ tsp baking soda
¼ tsp salt
Wet Ingredients:
1 cup / 250ml cold water
½ cup / 125ml sunflower (or other light) oil
1 tsp vanilla extract

Method:
Preheat the oven to 180C / 350F.

Then, whisk together the flax seeds and the water for the flaxeggs and set aside.

Pour 2 tbsp of the Cointreau over the raspberries, mix gently until the berries are coated and then set aside.

Combine the dry ingredients in a large bowl (make sure you sieve the cocoa to get rid of the skanky gritty lumps).

Whisk together the flaxeggs, the 3rd tbsp of Contreau and the rest of the wet ingredients, then pour them into the dry ingredients and mix well.

Lightly spray a baking tray with sunflower (or other flavourless oil) and tumble the raspberries/Contreau in.

Pour the batter on top of the raspberries and smooth over. Sprinkle the chocolate chips on top and bake for 30 minutes.

The cocktail stick test won't be very accurate as these will still be soft in the middle but it will come out pretty much clean.

Leave to cool completely in the tin. I keep these in the fridge in the tin and just spatula a bit out when I want one! You can put them into a tupperware but you'll have to go careful when you take one out as they're very soft.
Here's one up close & personal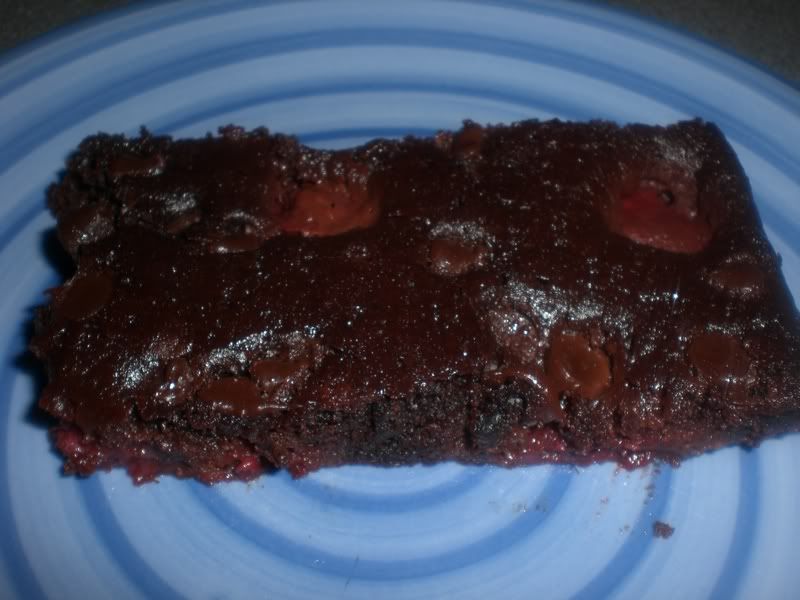 Dinner for the last two days was sun-dried tomato seitan - basically, that's my variation on Julie Hasson's sausage recipe but made into patties instead. These were sooooo good. I have posted my version at the end of the post, but credit still goes to the original recipe for proportions on gluten / liquid and cooking method.

Yesterday I lightly pan fried them and served them with some steamed mange tout, white bean mash (idea stolen from Nigella), and red pepper sauce. The sauce was an experiment, basically I used the veganyumyum recipe for the creamy tomato sauce that I love, but I used a roasted red pepper, 4 cherry tomatoes and left out the tomato puree. It was GOOD!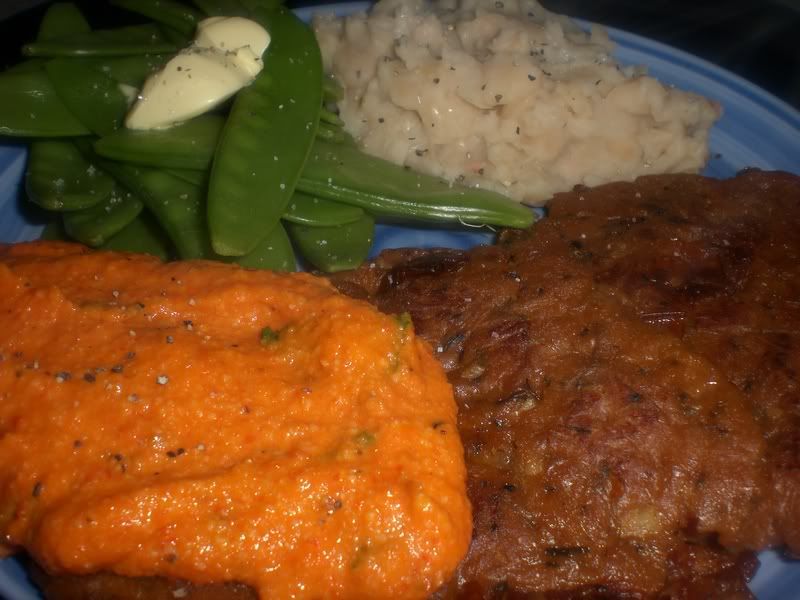 Today I pan fried them again and served them with some broccoli, sweet potato fries and some cherry tomatoes roasted in olive oil and balsamic vinegar and then sprinkled with finely chopped basil.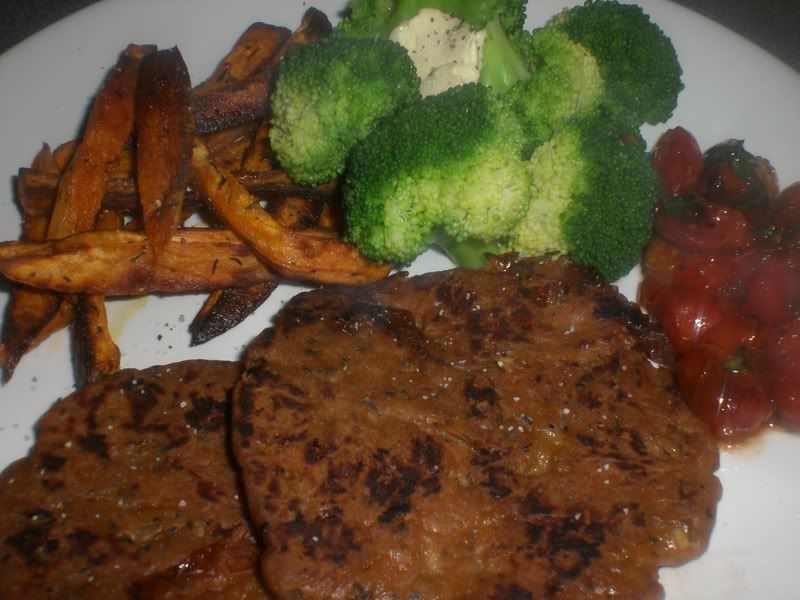 My variation of the seitan (I only make a half batch as it's just me)
Good handful (about 8) sun-dried tomatoes
½ a small onion, chopped into small dice
2 cloves of garlic, finely chopped
Dry Ingredients:
1 cup + 2 tbsp (145g) Vital Wheat Gluten
¼ cup (4 tbsp) Nutritional Yeast
2 tbsp gram (chickpea) flour
1 tsp paprika
½ tsp smoked paprika
½ tsp thyme
½ tsp oregano
½ tsp sage
½ tsp salt
½ tsp pepper
¼ tsp cumin
Pinch (⅛ tsp) chilli flakes (optional)
Wet Ingredients:
1 cup + 2 tbsp (280ml) cold water
2 tbsp soy sauce
2 tbs ketchup
¼ tsp liquid smoke (optional)
1 tsp vegemite or marmite
½ tsp dijon mustard
1 tbsp olive oil

Method:
Pour boiling water over the sun dried toms and cover the bowl with a plate or clingfilm, and set aside.

Saute the onion in a tsp or so of olive oil for 5-10 minutes until soft and browned. Add the garlic near the end and cook for a minute or so, then set aside.

Then combine the dry ingredients in a large bowl. Stir together the wet ingredients.

Chop up the sun dried toms and throw them into the wet ingredients, with the onions/garlic. Pour the wet into the dry and stir until it forms a dough. You don't even need to kneed!

Drop 1/4 cup of dough per patty into a piece of plastic wrap, smoosh them out and wrap them up. Then steam them for 25 minutes.

They taste best if you pan-fry them, until just very lightly brown, in a spray of olive oil before serving.
Makes 4 sausages (use a 1/2 cup measure) or 8 patties (1/4 cup measure).

Bonus pic - I managed to get the pics from London off my phone. They're really not that bad quality - it's just a combo of filthy windows (eww) and poor lighting!
View from my window: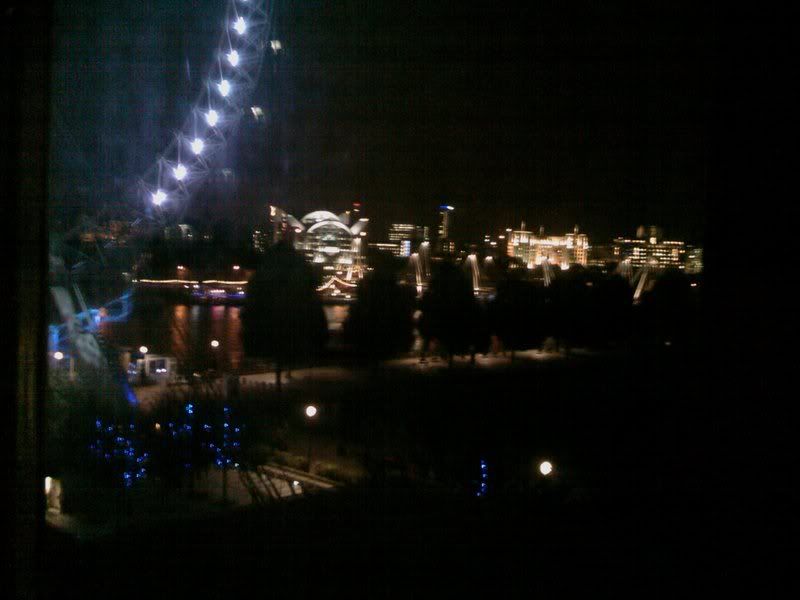 My giant room!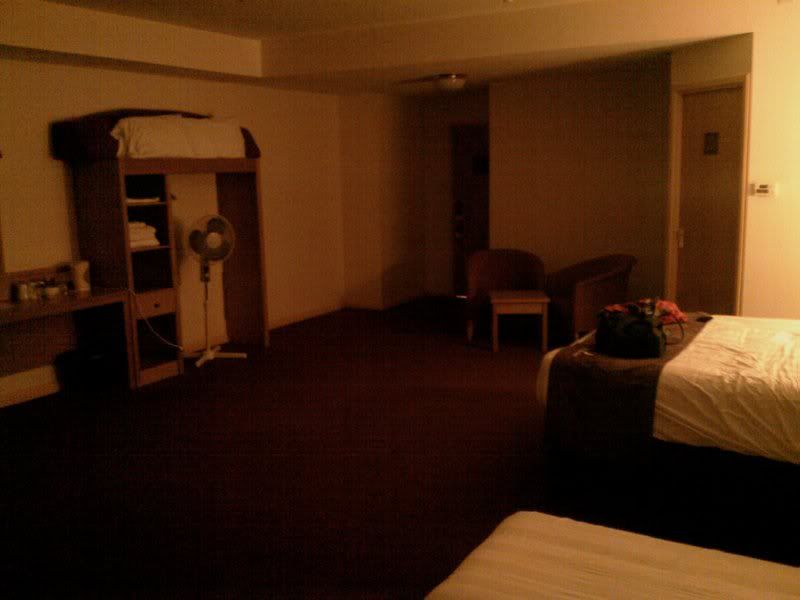 T.T.F.N!