Long post alert.....
I just had a great week away with the girls, two Bon Jovi concerts, a Def Lep / Whitesnake concert and a few days in Blackpool. The only downside was the food. I basically lived off crisps, rolls, chips and other high fat, refined carb food for a week and my stomach wasn't loving me for it! I felt crap, as we all did and was just craving a big plate of veg and some tofu! Sadly this sandwich was about the best thing I ate all week – in the zoo!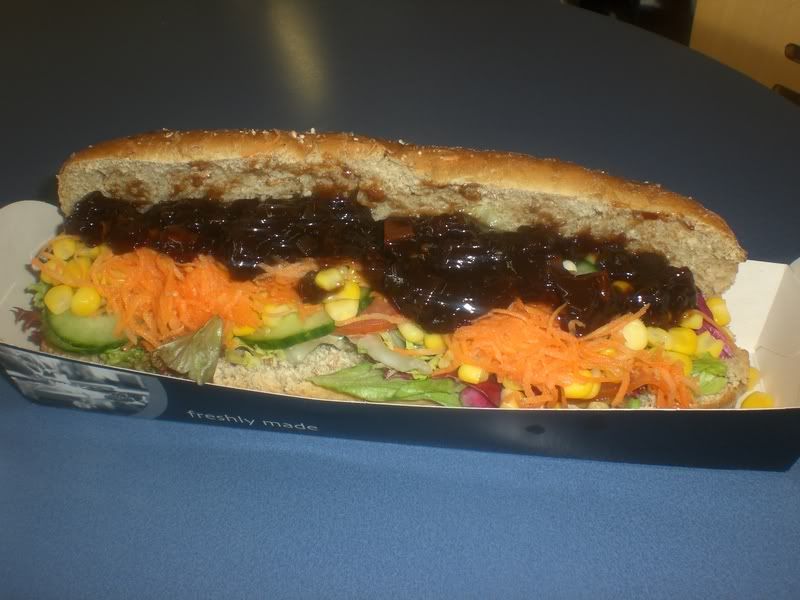 The week started with a night out in Rochdale at a place called Bar Vegas (yes really). I think it was a gay bar but not sure, it had a drag queen for a DJ who had me in tears laughing at some of the stuff he said.
The next night was bon jovi which was awesome but then we got stuck in traffic for over an hour coming out which BLEW! Then up to Blackpool for 3 nights in a dingy hotel. Pleasure beach, waxworks, zoo, beer, 2 horror films (go watch Teeth, seriously it is fuckin hilarious!) and a butt load of bad food.
Then back down south on Thursday and straight to Wembley to watch Def Leppard (AMAZING!!) and then Jovi again yesterday.
But as I said, my stomach was angry at me for filling it with shit food and beer for a week, so here was my answer; a really fresh, zingy salad. This was inspired by a few things but mainly from a salad that I had in my pregan days on a trip to New York (in the cafe next to the empire state building). It had smoked chicken and cheese, walnuts, cranberries and loads of other stuff, it was amazing. So I veganised and awesomised it and here is the result.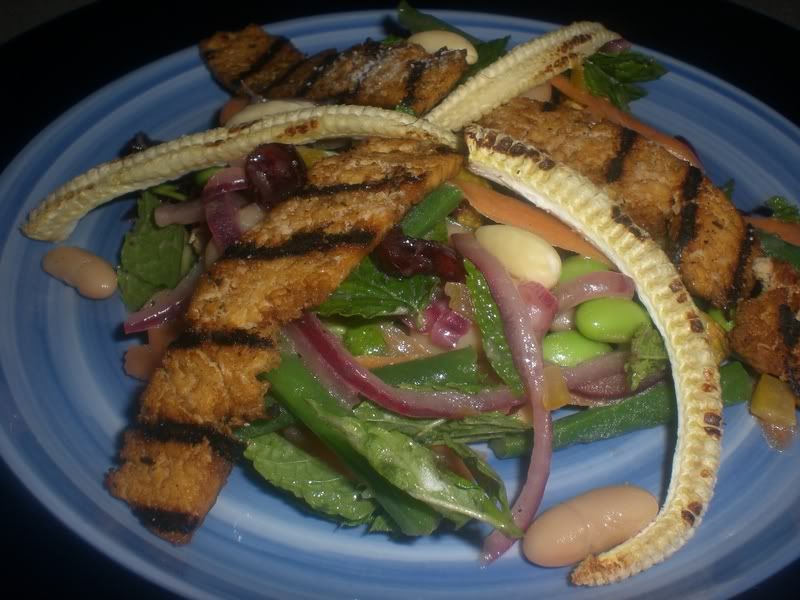 You need to add lots of other veg to this to make the salad awesome, but the base is really up to you. The ingredients list below is just the bits that I think are the really important bits!

Ingredients:
½ red onions
Juice of a lime
¼ tsp salt
A big handful (1/2 cup or so) of dried cranberries
A big handful (as above) of walnuts*
A small packet or a good handful of fresh mint (I used fresh from my Mum's garden)
3 or 4 tablespoons (about half a small tin) of cannellini beans
Dressing:
1 tsp balsamic vinegar
1 tbsp olive oil
Pinch of salt & pepper
1 tsp vegan sour cream (optional)**

Method:
Start by slicing the onion into half moons, as thin as you can manage. Then sprinkle them with the salt and the lime juice. This sort of cooks the onions and takes away the harsh onion taste and just leaves them soft and sweet. Honest!! (A Nigella tip, I borrowed!)

Leave them for about 10-15 minutes if you can. The juice will turn a pretty pink colour too, but I'm gonna kill it anyway with balsamic vinegar! J

Squeeze out the onions and throw in a large bowl with the other salad ingredients, reserve the pretty pink lime juice. Chop the mint really roughly or even just pull the leaves off and throw them in whole, you want bulk, not a fine sprinkling!

Add any other salad veg that you want. I added trimmed, halved green beans and frozen edamame (soy) beans, that I just blanched in a pan for 5 minutes then rinsed under cold water. I also added some finely chopped yellow pepper and some carrot that I just shaved off with a peeler, rather than grating it.

Whisk together the reserved lime juice with the rest of the dressing ingredients (be patient, the sour cream takes a minute to get smooth!). Pour over the salad and toss well. Check seasing and adjust if necessary.

I served this with some fine slice of tofu, seared on the griddle pan, that I marinated in soy sauce, liquid smoke, chicken style seasoning, agave nectar and water. I also threw some baby corns, quartered lengthwise, on the griddle just to make them pretty and give them a bit of flavour.
* it should be walnuts in this salad, but I didn't have any so I subbed with almonds, as you can see in the pic. It is better with walnuts!

** the sour cream is optional, but it gives the dressing a lovely light, creamy taste without being claggy. It also helps emulsify the dressing, but leave it out if you prefer.

Cooking to: Bon Jovi of course – New Jersey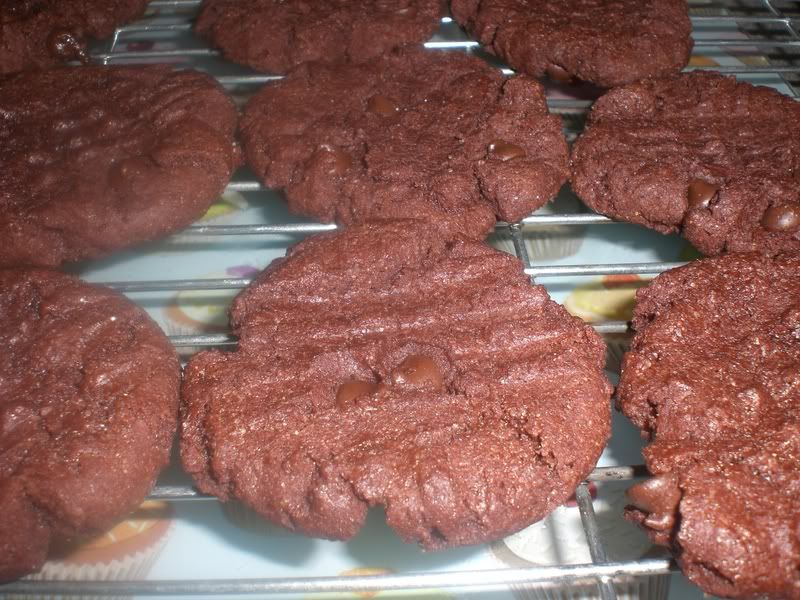 Also, I made some cookies to give to Jackie (my friend) for putting us up and driving us to and from Bon Jovi. I made the chocolate/raspberry cookies from VCON and I have to say, I was disappointed, which surprised me greatly. First of all, 10 minutes was too long a cooking time, they were dry and secondly the almond extract totally overpowered the raspberry and chocolate. So I think they have potential but I will leave out the almond ex next time and only cook them for about 7/8 mins. I also added half a pack of supercook dark chocolate baking chips, I would definitely include those again next time.
If you want to see pics from my trip, they are here.....
http://www.facebook.com/album.php?aid=58150&l=29d76&id=598621139
http://www.facebook.com/album.php?aid=58183&l=7e8db&id=598621139

Bon Jovi pix here...
http://www.facebook.com/album.php?aid=58184&l=dfd5b&id=598621139

And in case anyone is interested, here is a bit of video of Dry County.

http://smg.photobucket.com/albums/v432/candybaps/?action=view&current=vid2.flv

Twickenham was an amazing gig, they were really energetic and totally on top of their game. This song is always amazing and last night was no exception! They get 5 aliens from me!!