Today I dug out my much neglected griddle pan and made myself some 'steak' n chips! I had forgotten how much I love that friggin griddle pan.
This was really simple, just some firm tofu marinated in soy, worcester sauce, liquid smoke and some water, then spritzed with olive oil, sprinkled with salt and pepper and griddled for about 10 minutes in total. If you griddle tofu, just make sure you keep pressing it down quite often. This way it presses out the excess liquid and gets those lovely griddle marks!
Chips were just potatoes tossed in olive oil and baked for 35 minutes at 200°C (turning once). The sauce was some mushrooms and onions sauted down for 15 minutes, then I added some of the marinade, cornflour a bit of soy and a bit of soya cream.
Easy but tasty.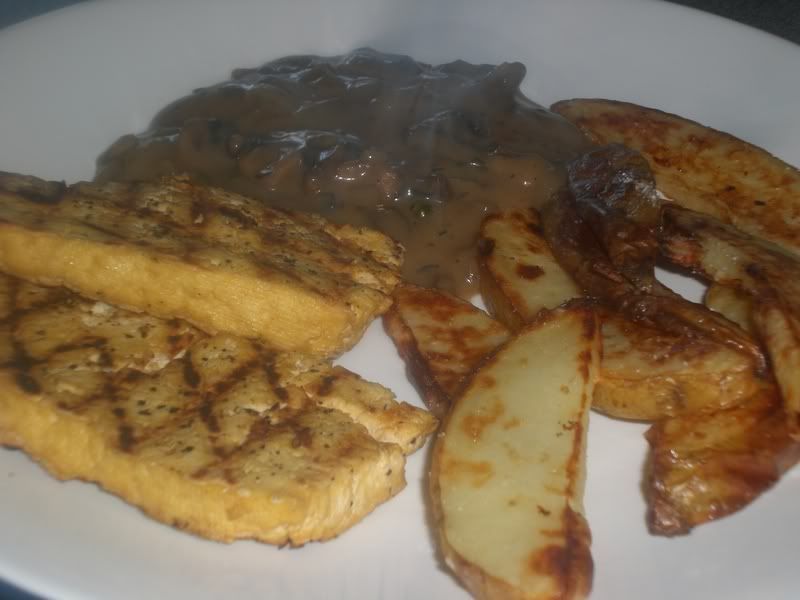 Cooking to: Scorpions - The Crazy World

Then another experiment! Savoury vegan cheese cornbread muffins. I tweaked my favourite cornbread recipe (from La Dolce Vegan) and added some sheese and some herbs and stuff. They are really good! A really nice savoury snack. I've put the recipe below the pic.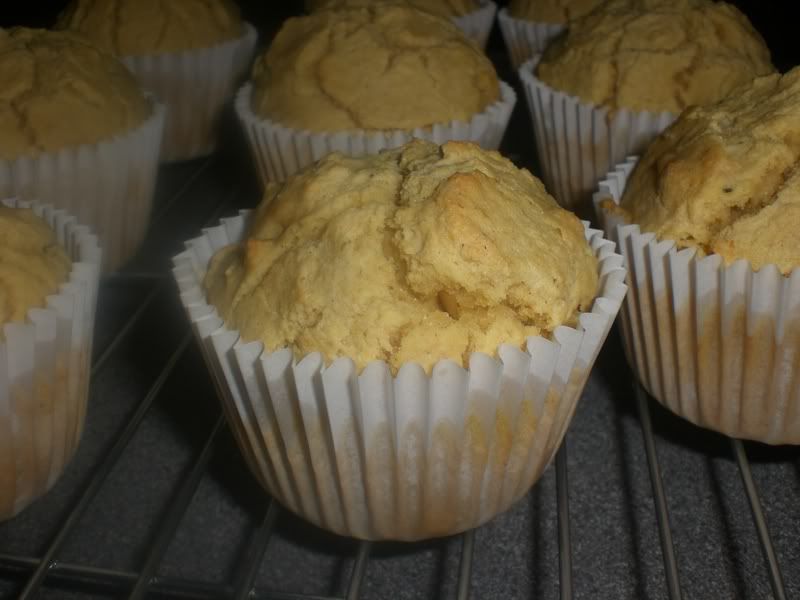 Ingredients (in cups cuz I was too lazy to weigh!):
2¼ cups non dairy milk (I use light unsweetened soya)
2 tsp apple cider vinegar
3 tbsp oil (I used sunflower)
1 cup plain flour
2 cups fine cornmeal / polenta (I got a massive bag of this in the world foods aisle in tesco for less than a quid!!)
1 tsp baking powder
¼ tsp baking soda
1½ tsp salt
¼ tsp black pepper
1 tsp onion powder
½ tsp garlic powder
1½ tsp fresh rosemary (you could use dried, but probably best to decrease it to 3/4 - 1 tsp)
½ cup vegan cheese of your choice - I used Sheese Smoked Cheddar style
¼ cup nutritional yeast

Method:
Preheat oven to 200°C.

Mix together the soymilk and cider vinegar and leave aside to curdle.

Mix together the rest of the ingredients (except the oil). Add the oil to the milk and whisk well. Pour the milk mixture into the dry ingredients and mix well.

Spoon into muffin tins and bake till a knife comes out clean. It took 23 minutes in my oven! This only made 9, because I like to fill them right up, but if you don't fill them all the way you might be able to stretch the mixture out to 12.

Cooking to: AC/DC - Highway to Hell
Bonus Pic: a muffin, still hot out the oven, slathered with Pure Soya spread!