So I have this big bowl of chicken style seitan that I made sitting in my fridge and I have been eyeing the jerk seitan recipe in
VwaV
for ages.
However, I'm so fucking lazy that I bought a jar of jerk seasoning and cooked my seitan, some mushrooms and red pepper up in that instead. VwaW recommends serving it with coconut rice but as mentioned before we have a problem - I'm lazy. So instead of reading the recipe I made it up as I went along and I'm happy to say, it was freaking superrad!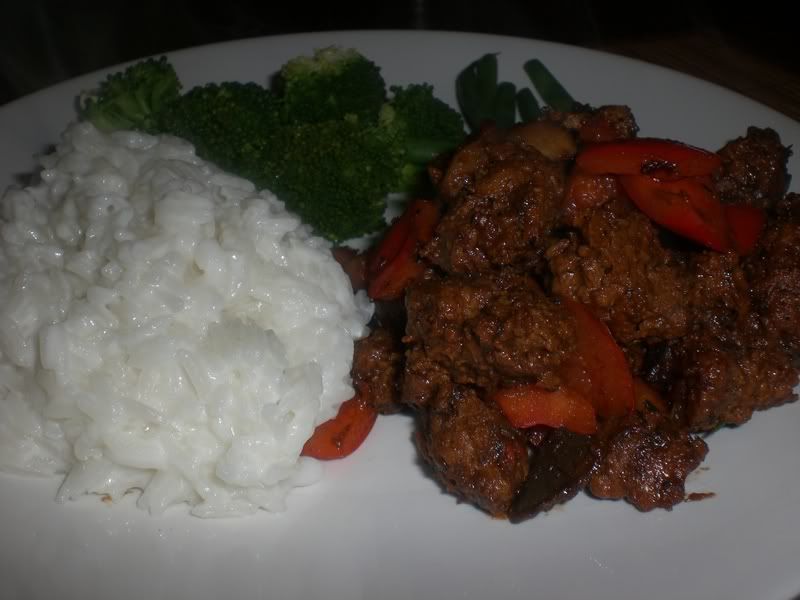 To make the coconut rice, I took the 150ml (just over 1/2 a cup) of light coconut milk I had left from a disasterous effort of jelly and made it up to 1.5 cups with hot water. I mixed in 1/2 cup of jasmine rice and a tsp of creamed coconut and put it in my steamer for 20 minutes, et voila!


I added a bit of salt once it was on the plate but it really didn't need it and was much better without. I served it with some steamed broccoli and green beans.

It's not very photogenic though is it - looks a bit like dog food! Ah well, it tasted good which is what counts.

Cooking to: Snow Patrol - Songs for Polar Bears