I'm back from site and I'm done for the year - YYYYAAAAAYYYYYY! I must say though that when I was away, I had the best Indian meal I've ever had in a place called Zing. It was right opposite our hotel and I WISH I had taken my camera or even my phone to get some pics.
They didn't have the normal veggie options so I went for lemon & ginger rice, aubergine & sweetcorn curry and a chana (sp?) dahl (chickpeas!) with roti bread. It rocked so hard - I was wishing I wasn't so full so I could have eaten it all. So if you're ever in the Hammersmith area of London, get a bus or tube to Ravenscourt Park (one stop from Hammersmith) and go to Zing. It is pricey but soooo worth it.
Back to today though, as always, when I get back from site, I can't face anymore stodge and just want veggies. I was inspired by Jessy from happyveganface's
veggie bowls post
a wee while back cuz it just looked damn awesome.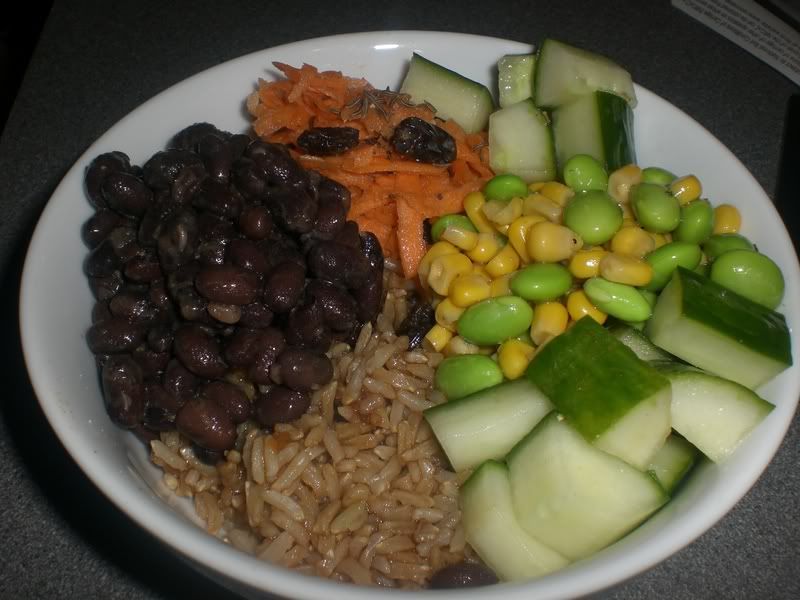 My bowl had brown rice and some cucumber, it had VCon corn & edamame salad, spicy black beans and a carrot salad. The spicy black beans were based on Jessy's (as per the aforementioned post) but I didn't have chilli powder or cayenne pepper so I used chipolte paste and I also added some liquid smoke. The carrot salad was just a grated carrot dressed with a bit of raspberry vinegar, agave nectar, salt & pepper, some raisins and a pinch of caraway seeds.
It rocked.
Cooking to: Incubus - Light Grenades
Also, I got home to find my new shoes had arrived - which is what made me start singing Kirsty MacColl and inspired the thread title! (
Fucking awesome song
.) Here they are, I got them from
http://www.asos.com/
- which is great because when you're looking for shoes you can select 'non leather' when you're searching!! Cute or what, I need to go out now to break these babies in!