This was the dish that I was planning for MoFo day 1, but my casserole dish didn't arrive. But I have it now and look - isn't it cute! It's a shame it's not pink but hey, it was 50% off in the sale!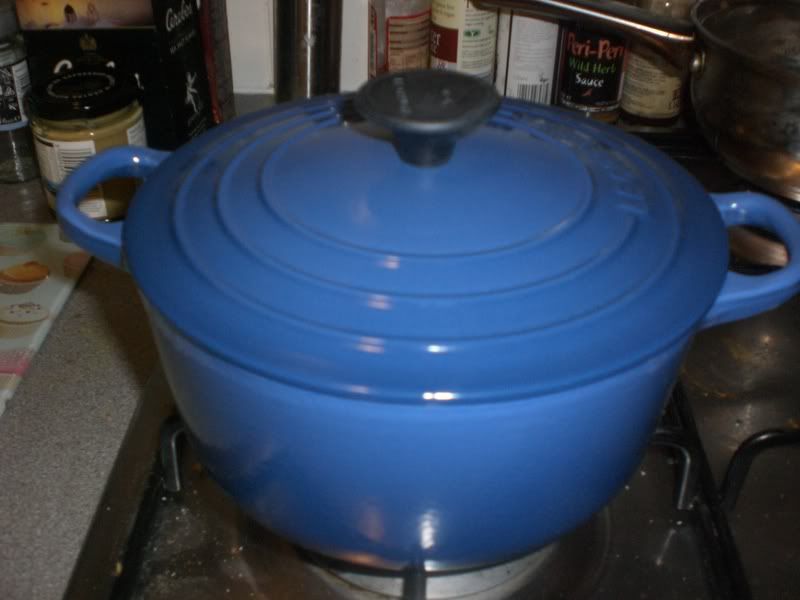 It being saturday and all, I had the time to make something super spanking to bust the cherry on this baby! I remember my mum making Coq Au Vin once for a dinner party and it was pretty good, so I thought I'd awesomeise / veganise it. I decided to use butter beans instead of fake meat or tofu. Chicken style seitan or chick peas would probably work though.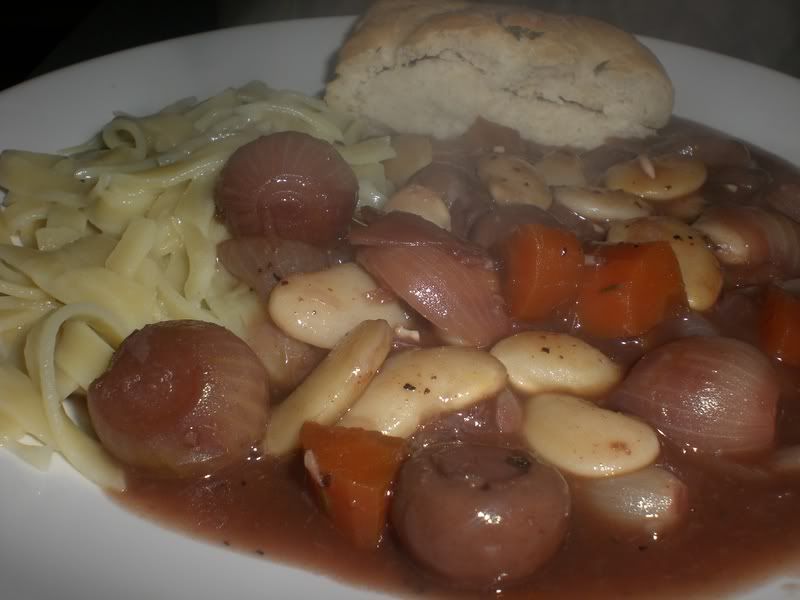 Peeling the onions is a bit of a pain in the arse so if you can find frozen ones, use them.
Ingredients:
About half a cup (a big handful) of baby shallots
A small pack of button mushrooms (150g ish) cleaned off
2 cloves of garlic
1 carrot peeled and cut up
250ml red wine
250ml veggie or faux chicken stock
A good splash of balsamic vinegar (tbsp or so)
A couple of sprigs of thyme
Salt & Pepper
Tbsp of flour
Tbsp of vegan margarine
About a cup or so of cooked butter beans (if you used canned, probably 1 400g can)
Method:
Preheat the oven to 180C/350F.
Put a tbsp or so of olive oil and a small knob of vegan marg into the casserole and turn on the gas to a med-low flame. Once the marg has melted and sizzled a bit add in the onions and cook gently for about 5 minutes.
Add the carrots, mushrooms and garlic (mince the garlic or chop it finely) and cook for a minute or so. Add the wine, stock, balsamic and the thyme and a good pinch of salt & pepper and bring to the boil. Turn off the flame and put into the oven for 1.5 hrs.
When the oven pings, take out the dish and put on a low flame on the hob. Mash together the flour and margarine and add to the pot. Mix well and cook for a few minutes to cook out the flour.
Add the beans and check seasoning. Serve with pasta (rice or mashed potato would rock too!)
I also had some homemade rosemary & sea salt bread to soak up the gravy (the best part of a casserole I think!!) More on the bread tomorrow.
Cooking to: Random 80s playlist
Oh and a bonus pic of lunch - this was sooooo good! I roasted up some sweet potato, green pepper, tomato and mushrooms. When cooked I added some sea salt, pepper and a splash of balsamic vinegar. They went into a wrap with some sliced cucumber (the cold crispiness goes really well with the warm soft veggies) and added some chipolte mayo and it was awesome. The sweet potato was so good!