I don't really like this post title, not very vegan is it! But I couldn't find anything that relevant. Funnily enough there's no rhyming slang for polenta.
So here's last night's dinner; part awesome, part cheater stuff I pulled out the Bacardi breezer! I found me a fry's burther and some granary rolls and defrosted those (that is
Reggae Reggae Ketchup
you see on the bun!). While the burger was cooking I made some polenta and then poured it into small Tupperware to firm up.
The coleslaw was just single serving made of a handful of carrot, a handful of shredded cabbage, a teaspoon of vegan mayo and a tablespoon of soya yoghurt then a bit of salt & pepper. The sweetcorn & beans just had a bit of salt, vinegar and sriracha on to make them less boring.
Then I cut up the polenta into fries and pan fried it in a bit of cooking spray just until it browned up a bit. Man they were SOOOOO good. I need to do this more often.
Close up of the polenta jockey whips (sorry!)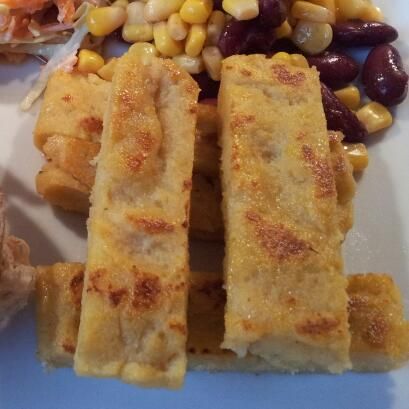 And to make up for the post title, here's a little pic of me Postman Pat, who was looking very lost this morning, as Daddy Alien is away for a few days. She was just wandering around looking for someone to give her attention, I felt mean having to leave her and go to work!
Kat Slaters
xXx
Cockney translations of the day
Jockies' Whips - Chips
Bacardi Breezer - Freezer
Postman Pat - Cat